Nicely socialized dogs in reasonable health and good humour are welcome at our Farm for day visits and as long-term guests!
DOG DAYCARE & BOARDING
Where your dog wants to stay while you're away!
"Home away from home" quality care for your dog that will put your mind at ease while you work or travel
In-home boarding for a limited number of happy guests
Large, fenced interactive play yards and quiet private spaces
Wooded walking trail system surrounded by peaceful Piedmont Valley
Fun socialization with our friendly resident dog and other social guests
Daily walks with the pack or on their own depending on your preference
A free Meet & Greet then one daycare visit prior to an overnight helps to make initial acquaintances and ensures compatibility and reduces potential separation anxiety that you or your dog may encounter in reassuring they are comfortable and content staying with their new friends here at the Farm for a longer visit
REASONABLE RATES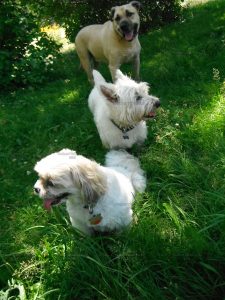 DAYCARE (8 AM – 6 PM) ———————————————————$23
OVERNIGHT BOARD (24 hrs from drop off time) ————-$34.50
$5.00 / hr outside regularly scheduled hours
Ask about discounts for multiple dog households and long stays
Private kennel spaces are available on request
No additional fees for medication administration
Pet First Aid certified
Ask about our 'check in at home' service available within our local area
Our 'Beggin Hearts & Bones' farm-baked doggy treats are also available
Dog daycare & boarding services conveniently located less than 10 km from the TCH#104 between Antigonish and New Glasgow in north eastern Nova Scotia… OK, we are a little bit off the beaten track but your dog will really appreciate that extra mile! Many of our clients state their dog starts to get really happy in the car when they see that green covered bridge over the Barneys River!
Please have dogs arrive / exit leashed or crated to ensure proper introductions and etiquette with others in the yard
For your own and other guest's safety please do not open any door or gate unattended by Farm staff
We will be happy to meet you at the main gate with arrivals and departures scheduled for mutual convenience
Grooming or obedience training is not offered on-site but can be arranged with great local providers on request
Arrange a no-fee MEET & GREET visit soon!
Visit our gallery to check out the fun!